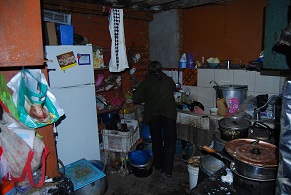 The day started with the normal wake-up bell, Adoration, morning prayers and Mass. The homily today was given by Padre Jose Maria, who has only been a priest since late April. You would never know that. He's a beautiful homilist. Brother Luis Gerardo provided a loose translation. The gospel was about Jesus driving out the demons from two demoniacs, and the demons go into the swine who go down the steep bank and drown. But the townspeople asked Jesus to leave. Padre Jose Maria focused on how the people asked Jesus to leave because of their fear. He then talked at length about how our fears can cripple us, and it's when we are afraid that we most need to ask Jesus to come into our hearts. That is not the time to send him away as the people in the gospel did. He got on such a roll that Padre Martín finally had to interrupt him due to time constraints. It was a remarkable homily spoken from his heart.
There tends to be random visitors for lunch, and today we had a language professor from the seminary and another woman who was very nice. After the 3:00 Divine Mercy Chaplet and Rosary, I sat down with Brother Juan Pablo (John Paul) for his biographical interview. With Brother Luis Gerardo as my interpreter we went through several questions. Brother Juan Pablo is one of the more quiet brothers, but he opened up quite a bit for me. He is from Peru and felt his calling for the priesthood when he was 14 years old. He initially started out as a Diocesan candidate, but realized early on that he wanted to be in a religious community. He began searching for a community when two ladies brought him to a service being said by Padre Martín. After meeting him, it took 10 months to sort out the paperwork for the transfer. This was in 2006. He is now in his third year of Theology. Read the full biography here.
Becoming a priest is not an overnight process in Siervos de la Divina Misericordia. New applicants spend 6 months as an Aspirant (where you live with the community to discern) wearing normal clothes. Then you spend one year as a Postulant, but instead of a habit you wear black pants and a black shirt. Then you become a Novice, where you get to wear the habit, and this lasts two years. Finally, you enter the seminary where there is one year of general studies, two years of philosophy, and then four years of theology. Then you become a Deacon for a year before finally being ordained as a Priest. I think you get a sense of why so many try to ignore the calling.
After dinner Brother Agustín asked me if I wanted to go with him and Brother Pio to give food to a poor family the community often helps. The family lives in a few spare rooms of a school, what appears to be part of their compensation for working at the school. I'm finding it hard to describe the rooms. They reminded me of extra storage space you'd throw junk in with barely enough protection to say it's out of the weather. And this houses the older parents, a daughter with two small children, and two older sons. I've never seen more abject poverty. When we went into the residence the older daughter was breastfeeding her baby girl (very openly I might add) but didn't flinch. The mother was very sweet and extremely grateful for the food. The Brothers were conversing in Spanish, appearing to me to be sort of checking up on how things were going. The husband and an older son were actually working on remodeling a room in the school, what looked to be some sort of laboratory I think. It was almost 9:00 pm, and the mother said they would work until 10:00.
Driving around this area reminds me of the poor areas I saw in Vietnam or Thailand or Korea or Turkey. I remember thinking at some point during my Air Force days that they all seemed to blend together — all with poor living conditions and crazy driving. With few exceptions it was always seen from a distance. This was not. During his recent visit to San Antonio Padre Martín remarked that so many times when he sees such poverty he just can't say no — even though he has no idea how he can make it work. God asks him (quite often) to give until it hurts. And he does. I think in America there are very few who can bring themselves to do that. Without seeing it first-hand, I know most of us find it very difficult to comprehend how impoverished much of the world remains and how truly blessed we are in America. My suggestion is to find something, even if you start small, and begin to make a difference. It really does help.